Our Hikes on the Bruce Trail
Other's Hikes

Resources/Books
Web Pages:
Please send us any comments, corrections, or your own favorite Bruce Trail hikes to
---
REFERENCES: Besides the above web pages I have made reference to the following books:
The 1998 Bruce Trail Reference - Edition 20 - Trail Guide and Maps
Country Walks: The Niagara Escarpment by Ross McLean, Anne Craik, and John Sherk, 1994
---




For similar web pages take a look at one of these Web Rings:





This Walkers and Hikers WebRing site is owned by David Sky.
[ Previous 5 Sites | Previous | Next | Next 5 Sites | Random Site | List Sites ]
Want to join the ring? Click here for info.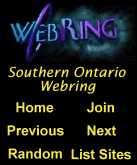 ---

new people are now ready to enjoy the Bruce Trail since January 1999.
---
Our hikes on the Bruce Trail pages have moved || Looking to geotag your blog entries?